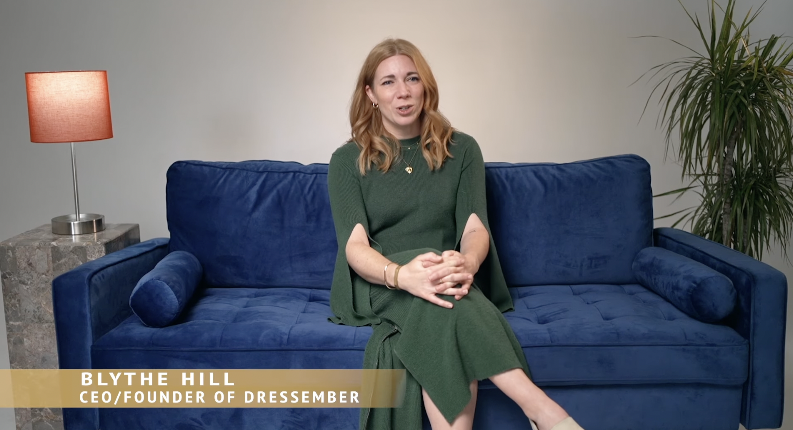 The first feature in our Small Business Spotlight series is one close to our heart. The Dressember Foundation is a non-profit based out of Orange County, that helps raise awareness and funds for anti-human trafficking efforts around the world. Although our Founder, Blaire Wayland, has participated in the Dressember style challenge for several years, Emblem Media Productions had a chance to tell their story last year in the Dressember Documentary.
We sat down and spoke with Blythe Hill – CEO and Founder of the Dressember Foundation. Hill told us the story of how she became involved in the anti-trafficking movement, and how wearing a dress became synonymous with the freedom and dignity of survivors of trafficking.
Hill first came to know of the horrors of human trafficking in 2005 when reading an article that described children being bought, sold, and transported across international lines to be sexually assaulted by paying "customers". Hill recalls, "I had never heard about human trafficking before, and I was physically sick." Having a personal connection to the issue of Child Sexual Assault, a fire was immediately ignited.
Hill was so determined, she says, "I thought I would have to quit my job, change careers, and move to India to have the impact that I wanted to have."
"My skills didn't line up with contributing and engaging in the fight in a significant way", says Hill. "I'm someone who's interested in fashion, trend analysis, writing, and puns." As time went on, Hill became discouraged in her ability to join this fight.
"I was getting my Master's degree [in English] and just had, like, no free time, no social life, and needed a creative outlet," says Hill. "I decided to create a style challenge where I would wear dresses every day for the month of December, and I called it Dressember!"
Hill first did the style challenge by herself – after all, it was just for personal expression. However, the next year she was approached by friends who wanted to participate with her. Then the following year, even more women were interested in participating. Of this exponential growth, Hill says, "I began to realize that maybe these people weren't just humoring me – that maybe, this was a good idea."
A friend encouraged Hill to align the Dressember style challenge with a cause – to create an annual fundraiser. "I realized that this could totally flop, and I could look really stupid", recalls Hill. "But I thought, If I can help even one person, then it's worth looking like a fool to the entire world.
So in 2009, which was year 5 of the style challenge, Dressember aligned with International Justice Mission – the number one leading anti-trafficking organization in the world. Hill set a goal of $25,000 for the first-ever Dressember fundraiser. "It was a huge, scary goal," says Hill. To her amazement, the fundraiser met her goal – on the first day of the campaign. As of 2021, the Dressember annual fundraiser has raised over $15,000,000 to directly support victims and survivors of trafficking worldwide.
The story of the Dressember Foundation is not only inspiring but has made a direct impact on the community. The Orange County Human Trafficking Task Force reported that even with the pandemic, human trafficking and commercial sexual exploitation continued as traffickers and exploiters took advantage of the vulnerabilities of victims. The Orange County Child Abuse Registry experienced an increase in calls for Commercial Sexual Exploitation of Children (CSEC) that identified more Orange County youth compared to previous years along with information from law enforcement. It was also reported that due to the COVID-19 pandemic, much of the work helping victims navigate the criminal justice system process was significantly slowed as investigations and the court system were unable to move at the same levels as before the pandemic.
The Dressember Foundation focuses on prevention, intervention, and survivor empowerment. This includes identifying at-risk youth and providing early intervention and education to significantly reduce the risk of youth being targeted by traffickers. They also focus on creating safe, culturally-sensitive exit pathways for those trapped in exploitation. Perhaps most importantly, Dressember provides and funds long-term support and rehabilitation for survivors of trafficking, to ensure they do not fall back into exploitation. This means directly supporting survivors through safe housing, legal support, education, and career opportunities. The goal is always to help survivors embrace the life they deserve – one of freedom and dignity. These funds and support methods reach worldwide, fighting human trafficking not just in the US, but in the Philippines, Uganda, India, Thailand, and many other countries. Though most in-person Dressember events are in the Orange County area, there are Dressember advocates from all over the world. Emblem Media Productions is honored to support and uplift this amazing organization.