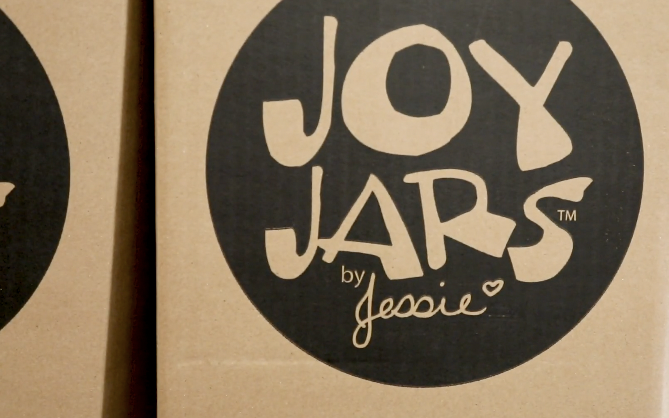 This week we celebrate an incredibly impactful Orange Couty organization, the Jessie Rees Foundation. Since 2011, the JRF has been encouraging kids with cancer to Never Ever Give Up. They have sent over 350,000 "JoyJars®" to kids fighting cancer, helping them and their families to experience happiness during some of the most difficult experiences imaginable. These JoyJars® were created by Jessica Joy Rees, a 12-year-old girl who fought cancer in 2011. The 64oz plastic jars are absolutely stuffed to the brim with age-appropriate toys and games and are given to both the child fighting cancer as well as their siblings supporting alongside them.
Jessie felt an innate need to bring encouragement to other children and families fighting childhood cancer and remind them to Never Ever Give Up. Although Jessie is no longer with us, her impact has spread far and wide to all 50 states, and over 40 different countries. Her family has upheld her mission and legacy through the Jessie Reese Foundation, spreading their message for children and families fighting cancer to NEGU®.
Any family with a Courageous Kid, SuperSibling, or Courageous Parent facing childhood cancer can sign up for Club NEGU, a free program that will deliver monthly boosts of love, encouragement, and joy for a full 18 months. The Jessie Rees Foundation aims to be able to say "yes" to any Children's Hospital requesting JoyJars®.
The JRF also created the NEGU Athletes® and NEGU All-Stars®. This program allows individuals with a platform to spread the message of NEGU®. These are adulthood athletes, celebrities, and survivors of childhood cancer who travel to Children's Hospitals to deliver JoyJars® and provide extra encouragement to those in long-term care.
Emblem Media Productions has had the enormous joy of being a part of their Video Production team. Together, we have been able to create stunning videos and live stream productions that reach all NEGU families. The Jessie Reese Foundation is a hugely impactful organization in their community and around the world, which is why we are so proud to support and uplift them.